OsoBlu Guest Reviews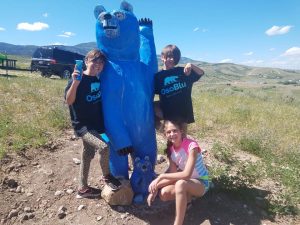 We are very proud of our OSO BLU reviews that our guests leave. All guests are encouraged to leave a review so others can see what to expect at OSO BLU.
A fun and unique experience for the family!
We had a great time at the Rendezvous yurt at Osoblu! It was a last-minute getaway and the owners were so accommodating. We had four adults, two small kids and a dog and we had more than enough space! The yurt was amazing and SPOTLESS. Spacious and well-being equipped, the yurt felt luxurious. But the real icing on the cake was THAT VIEW. Beautiful view of the lake and the surrounding natural landscape. The location was also perfect. Close to town and we loved the little beach nearby for the kids (Garden City Park beach). Overall, a fantastic getaway. We will definitely be back!
A few things to note:
– this is up on a hill so don't expect to walk to the beach unless you are ok with a pretty steep climb on the way back. That said, parking at the nearby beach was never a problem.
– if you are particular about your bedding, consider bringing your own. The bedding is clean and perfectly sufficient but it's not exactly luxury hotel quality (ie not 100% cotton and all polyester fill pillows/comforters). My husband in SUPER picky about bedding but I imagine, for most people, the provided bedding is just fine.
– it is a yurt, not a house. Sound travels and temperature has to be paid attention to. Overall, I was surprised I didn't hear more noise from the neighbors as all the yurts were occupied. And the swamp cooler did a great job of keeping the yurt cool if you made sure to follow the instructions re keepingwindows open. My mom was not familiar with how swamp coolers work and closed all the windows the first day we went out so it got kinda toasty.
– a tea kettle would be nice for us tea people but there is pretty much everything else you could want in that kitchen.
– if the weather is nice, bring a camping table or other outdoor seating. We would have loved to eat just outside our yurt (again, the view!) but we did not come prepared for outdoor dining.
You will not be disappointed in these great, unique accommodations!
Best trip to Bear Lake
Hi there! I just wanted to let you know how much my family and friends and I enjoyed your yurt! It was just fabulous the accommodations are gorgeous and so well appointed. We really had one of our best trips to Bear Lake and largely attributed that to you and the yurt! I also want to tell you I met Leo and I think he is just the sweetest young man — what a good person! we loved working with him and he went out of his way to get us a paddleboard on his day off so thanks for the exceptional service and take care!
Thank you!
10 out of 10!
Best glamping experience yet! Walked in to a very clean and larger than expected Yurt. We were welcomed by delicious treats on the kitchen counter. Communication with owners was simple and easy. Definitely coming back again!
Amazing and so unique!
We loved staying here!!! The yurts were absolutely beautiful and so fun. The views were amazing. My family and dogs love staying there. It's hard to find dog friendly places as amazing as this. We definitely want to come back sometime!
Such a great experience1
We really enjoyed our stay at the Rendezvous yurt! It was super clean, there were plenty of towels, plenty of beds, and it held up just fine during a crazy thunderstorm. The approach to the yurts is a fairly steep gravel road, so just keep that in mind when deciding what car to bring.
Unbelievable views in a unique setting!
This was my family's first time in a yurt & in the Bear Lake area and we couldn't believe we had never heard of this beautiful place before! This lake town is amazing and being able to enjoy it in a yurt took the whole experience to the next level!
Such gorgeous views from nearly every window and all the comforts of a home, but in a way cooler setting! The kids absolutely loved the loft and the huge bean bag in the living area. The yurt was very spacious and the kitchen and bathroom are upgraded and beautifully done. It was pretty incredible and we just couldn't believe we were in a yurt! There is a skylight at the very top with lights at night that make the interior glow. Our party of 7 had plenty of room and the two bedrooms offered a lot of privacy.
We had no trouble checking in or out since communicate was easy and we had all the information in advance. We only wish we had booked a few more days so we could have spent more time around town as there was much to do.
In short, the Yurt was modern, comfortable, spacious, and very clean. This place is perfect for a family or for multiple families looking for a place to stay together (there are 7 beds!) There are outdoor games and a fire ring with chairs to hang out altogether at night just a short walk up the hill. The view from there is unbelievable so bring your drinks and plan to stay a while!
Fun family vacation
We had a great time staying in the Ute yurt. It was clean and ready when we got there and they even left treats for us and some treats for our dog! Would stay here again!
Pioneer
We loved staying at OsoBlu this last July. We had every little thing we needed. I was extremely clean and lovely.
Amazing Weekend
My husband and I spent the weekend in the Rendezvous Yurt, and had such an amazing time. We got to watch the seasons turn from Fall to Winter overnight, and couldn't have been in a more beautiful place to do it. The yurt was incredibly cozy and warm. Between the pellet stove and the beautiful electric fireplace, we were very comfortable and didn't feel the cold weather at all. The bed was very comfortable, although I could have easily slept in the giant bean bag chair. The kitchen was beautiful and fully stocked with dishes, pots/pans, and utensils. The bathroom was stocked with more than enough towels, washer/dryer, and a really pretty walk-in shower. We almost felt guilty that there were just two of us, because there were enough beds to comfortably sleep 12 people, plus the over-sized bean bag chair (I can't say enough about that). We will definitely be back, and bring the family with us.
Response from Bear Lake Rental
The pellet stove is not available during our regular season, but we do have heaters in each room and a fireplace that heats the yurts nicely when it is chilly out.
OSO BLU is OSO peaceful
We are remodeling our home and it is CHAOS! We were lucky enough to rent a yurt at Osoblu this summer and found it to be such a peaceful respite. The place was clean, the view was amazing. The kitchen perfectly stocked, the beds and pillows, so comfortable. We were able to rent kayaks and paddle boards from the owners and spent a lazy day floating in the lake relaxing more.
Our children had some time off From
School this fall, and they wanted to return to Osoblu. The season had changed, and the view was possibly even more spectacular. The fire pit was warm and inviting. All we wanted to do was relax and enjoy the yurt. Such a wonderful getaway, I almost hate to publicize. We want to keep it a secret! Except, we want the owners to know how special it is! Thank you again!
Great place to stay!
This place is a 5 star "tent". We were very relaxed in this wonderful, clean, modern, comfortable, kid friendly place. Thank you very much. One note to add is that in the "Cisco" either the main living room ceiling fan/light is possessed or it has not been separately programmed from the Yurt next door. LOL. It had a mind of its own while we were there. Thanks again!!!
Thank you for your review and the information about the programming of the large fan we will have that corrected for your next stay!
Awesome weekend getaway!
I was lucky enough to win a free 3 night stay at Osoblu yurt and let me just say it was absolutely amazing! The yurts are so cute and cozy with so much space. I would 100% recommend. I can't wait to come back!
Great experience!
Our family had a wonderful stay here! The owner is very kind, flexible and accommodating. The yurt was so clean. There are so many neat things to do right on site, it is such a beautiful, comfortable, neat, place to stay. We are already looking forward to our next visit!
Fun experience
I've always wanted to stay in a yurt. These yurts were great. Very spacious! Super comfy beds, nice kitchen, tv, bathroom, etc. The view is amazing and we enjoyed our time with friends very much. If I were to suggest something though, it would be to add more furniture in the main room. Watching a movie was hard for 9 people. I think you could easily have a sofa and loveseat. There are plenty of stools for the bar, but that's not so comfy to sit on for a movie. Overall, that's why I gave this a 4 instead of a 5. I also thought the sofa was a sofa bed, but realistically it can only fit a small kid. I think having sheets for it there would be nice also. Or, just have a regular sized pull out sofa bed. It also would have been nice to have some soap in the bathrooms. There was a tiny little sliver of some homemade soaps, that wasn't quite enough though. Soap/Shampoo for the shower would be good too. There was plenty of towells which was nice. I also loved the bedding and stayed nice and warm in it. We liked the fireplace very much as well. Overall a great experience. We really did love it!
First Yurt Experience But Not My Last!
Wife and I stayed in the Pioneer Yurt, from the moment we went through the custom Bear Gate to the seamless checkout we were pleasantly surprised at the whole experience and stay. Yurt was packed with all kinds of nice amenities we have back home like a Roku TV, full kitchen, walk-in shower and they even included dishes, Tupperware and other useful stuff. The double toilets would be a nice touch for larger families as well as all the space and places you section the yurt off to.
I would say our only complaint, and it's nothing they can fix, just the nature of a yurt, is the first night it was very windy and rattled the yurt canvas enveloping the structure which woke us up a number of times throughout the night. That would have happened if we were in boring normal tent too, the second night there wasn't any noticeable wind, so it wasn't an issue, just something to keep in mind if you're new to Yurts.
We'll be staying again, size, amenities, location with killer views and price all make it well worth it and highly recommended.
Nicest yurts ever!
We vacationed here with our family and we all thoroughly enjoyed it. The yurt was spotless when we arrived, the beds are very comfortable, the bedding is heavenly, and there is plenty of room. We enjoyed watching the wildlife nearby and just hanging out, playing games and spending quality family time together.
So luxurious, we forgot it was yurt!
The yurt was nicer than some of the rentals on the lake! We forgot that we were technically camping….We had 4 adults 2 littles, 4 teenagers and a dog and had more than enough room. The bed in the loft was perfect for our 17 yr old and the bunk beds worked out great for the other kids. All of the beds were super comfortable… There were plenty of towels and washcloths for all of us so that was nice because we are always running out of towels at hotels and rentals. Washer/dryer was really convenient. The kitchen island was perfect for playing games and had tons of seating so everyone was able to eat together. TV and fireplace were a total bonus to have after a day on the lake. But the real prize is the breathtaking view from the viewing deck above the yurts! All I can say is WOW!!!
If I were to be hyper critical and offer some tiny suggestions, I would recommend a king in both bedrooms, having some hotel quality pillows and extra pillows for those who sleep with with 2 pillows, a Keurig with complimentary coffee, hot cocoa pods, cream and sugar, and shower toiletries. Roasting sticks, a bundle of wood and a lighter for each yurt over the 2 hr paddle board for us would have been preferred since we are boaters. Regardless, these yurts are incredibly luxurious.
The owner was very friendly and accommodating. I can tell how much thought and hard work went into making these yurts feel like home. We absolutely loved our stay and look forward to coming back!
Unique experience that felt first class and allowed our pets to stay.
Unique experience that felt first class and allowed our pets to stay.
Made us Yurt believers! Suggest you bring in food and use wonderful kitchen set-up. If visiting the area I would return. Beds were very comfortable and bathroom met the needs of our family. Washer and dryer were a bonus!
Whole family had fun.
Yurts were clean and fit my whole family. Really sleeps 12. Kitchen had all we need. Kids had lots of fun. Close to lake.
Such a fun place to stay!!
We stayed here for two nights and were surprised at how amazing these are! There is so much room, we could not have been happier! Loved the loft with the extra bed and also the full kitchen, we cooked both nights and had everything we needed. The tv and apps were a big bonus, our kids were entertained watching Disney + while we packed in the morning. The view of the lake is fantastic. We have already talked about coming back for another stay. This is not just a yurt, it's a luxury tent with comfort beyond expectations.
Will definitely be back next summer
It was an amazing place with an amazing view. We will definitely be back next summer!
Great location near town
Great location near town. We stayed with extended family and enjoyed the 3 separate areas . The ladder to the loft was a little tricky for the little kids, but even the 1 year old figured it out (with supervision). The kitchen was great and had all the basic necessities. Very fun stay. *since it is new gps doesn't quite get you to the yurt.
Very close to town and great views
Great place to stay! Very close to town and great views!
Staying here was amazing
Staying here was amazing!! It has beautiful views of Bear Lake!
Definitely will he staying here again
Great space to hang out. It rained most of the time we were up there, but we enjoyed staying inside. Plenty of room and in a nice private location. Close to everything. Definitely will he staying here again.
Everything was perfect
We had so much fun! Everything was perfect and the location couldn't be beat!!
Unique and fun stay at Bear Lake - great value!
Yurt was really fun – the kids loved the loft. The kitchen was really nice – love the no-slam doors. Great value for the money, plenty of space for our two families. You have to understand that you'll be able to hear people outside. Wish the shower had a lock so others could use the toilet/sink when someone is showering. Overall, loads of fun and a great value.
If you are considering staying at the yurts, don't hesitate for a second!
If you are considering staying at the yurts, don't hesitate for a second! Our family could not have been happier with our stay. Easy parking and access. The yurt is so luxurious and stylish. We especially loved the kitchen, the bathrooms, and the bedding. My 15 year old loved his loft, and 2 and 4 year old loved their bunk beds. A tiny hike from the yurt is a BBQ area complete with cornhole, tetherball, and the most spectacular view of Bear Lake. It really was the perfect place to stay for 1-2 families as long as you don't mind semi-sharing bathroom quarters. We had seven people but could have easily fit more. Huge thanks to Melissa for providing us such a wonderful place to stay!
We've traveled the world and this is one of the cutest places we've stayed.
We've traveled the world and this is one of the cutest places we've stayed. I've never stayed in a yurt but it is shocking Very spacious! The views are amazing! Well stocked with essential needs. I would without a doubt stay here again. I would like to say I don't recommend this place cause I want it to be available every time we go but I want nothing but the best for the owners of these yurts so I highly recommend booking this place!! Melissa the owner is soooo accommodating and friendly. Thank you for such and amazing yurt experience!!
This place was awesome!!
This place was awesome!! Such a fun and unique property. The yurt was clean and so spacious. The beds were amazing!! Loved the loft and two separate toilets. Kitchen was well stocked. I do wish there was more seating to snuggle in and watch a movie. Would definitely stay here again!!
We LOVED our stay at the OsoBlu yurt!
We LOVED our stay at the OsoBlu yurt! It was very clean, beds were comfy, great location. We loved having a fully stocked kitchen, washer & dryer and 2 bedrooms.
We loved our stay.
We loved our stay. We were super comfortable and had just about everything we needed. Our 4 teenage girls were disappointed from the outside but LOVED it from the inside! We had lots of room and the beds were very comfortable. There were a few things that were a little frustrating like the blinds that were broken. We also had to fix the sun roof window which wasn't installed right and the sliding door to the bathroom. Also since it's a tent, the neighbors were super loud at night and would sometimes stay up until 1:00 am. For the most part though we loved our stay and would come again. Thank you!!
We had a great stay over July 4 weekend.
We had a great stay over July 4 weekend. The yurts are perched on a hill overlooking the lake which made for fantastic fireworks viewing without having to go anywhere. The yurt was clean and had everything you need. We even baked a cake there. Short bike ride or walk down the hill to the beach, though what goes down must come up so remember that. Kids loved the loft area, parents loved sitting by the open windows on the cozy couches and chairs soaking in the breeze and views.
The yurt was really nice!
The yurt was really nice! It was new and extremely clean. We had a wonderful time. Spectacular views of Bear Lake! The cons are: cooking pots/pans are limited, no dinner table, and the immediate area around the yurts is dirt/rocks.
What a great place to stay!
What a great place to stay! Quite affordable. We had a large group and there was plenty of space for sleeping, eating or just casually lounging. The yurts are beautiful, modern and comfortable. The view is amazing! So close to everything. Management answered all questions in a timely manner and could not have been more accommodating. They even left a blanket for a pet with a cute note attached in case we brought our dog. We look forward to our next stay!
Got to tryout some brand new yurts in Bear Lake
What a great weekend with the fam! Got to tryout some brand new yurts in Bear Lake and they were awesome! Thank you @fromslc and @bearlake.osoblu for an amazing weekend! This might become our new yearly family vacation.
Had a great weekend
Had a great weekend in our osoblu yurt at bear lake
The yurts were so fun for me and my family!!
The yurts were so fun for me and my family!! Great location and so spacious!! The beds we very comfortable and the space has such an amazing view of the lake! We really enjoyed our stay!
Beautiful views of the lake and valley
Great place located close to beach, restaurants, and trails for riding OHV's. Beds are very comfortable towels so soft. Great communication with host. No issues at all. Beautiful views of the lake and valley. You won't be disappointed.
We had a blast at the Cisco this weekend!
Thank you so much John and Melissa! We had a blast at the Cisco this weekend! Everything was so clean and so well put together. I could really tell how much thought was put into making this a great vacation spot. We will definitely be back with our families, but these yurts are the perfect getaway for a girls trip. I'm already planning another visit!"
Aloha, We had a wonderful time at the Yurt! We wish we could have spent one more night.
Aloha,
We had a wonderful time at the Yurt! We wish we could have spent one more night. I will definitely be recommending it to all my friends and family that are here in Utah. And on our next trip back be bringing up the kids.
I think you have don't a wonderful job and keeping it simple yet welcoming. The only feedback I would leave is it would be nice to have some tin foil, saran Wrap, or baggies in the kitchen. And maybe a sign that says additional parking this way for those that have more then 3 cars. If there is a place to leave a review for you online we would love to do so. Just lmk where or send me a link.
Thanks,
Alison
Absolutely Beautiful
We Stayed in the Cisco and it was Absolutely Beautiful! Awesome Views.
Oh my gosh we loved it!
Oh my gosh we loved it! The yurt was beautiful and big and open. We all had a great time. I know you're still getting everything set up but a few suggestions: a table, even a fold up one. For playing cards and such. The bar was hard for some games. A picnic table and a small fire pit closer to the yurts would be nice too. The big one was nice but kind of a hike with kids and babies and food and drinks. Haha. Cement in the outside entry way, Little Rock's kept getting inside and will eventually scratch the beautiful floors. It was so great though! The kitchen was well stocked. We stayed cool at night and during the day. The breeze was
Lovely. Thank you so much. We will be back. Thanks again, Katrina
LOVED our stay!
Where is the best site to post a review for you? The only suggestion I had was to have pumps of soap in the kitchen and bathroom. Bar soap is just so messy 🙂 It was so comfortable and quiet and that view! Thank you again for your hospitality!
You guys thought of everything!
You guys thought of everything! I can't think of what else you would have needed to add. My husband suggested having a way to lock the cauldron.The cauldron dumped toward all of us and the kids were crying and freaking out. It was an impressive storm!
Response from Bear Lake Rental
We have secured the cauldron so that won't happen in the future. Happy you had a great time 🙂