Oso Blu is Dog Friendly for Friendly Dogs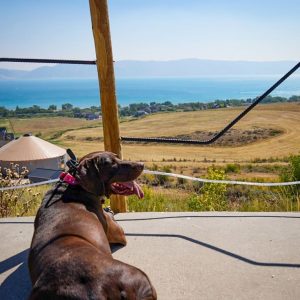 Oso Blu is a place where you and your family can unwind, including your dog. Enjoy nature walks on the many acre property with your hairy love ones, and I am not talking about grandpa. Throwing a ball, running, walking or mountain hikes are just outside your door. Please use doggy clean up bags provided for your convenience and those of the other guests. As responsible dog owners keep in mind the feelings and needs of other guests.
If your dog is not friendly to other dogs, people or barks constantly do not bring it.
We are dog friendly to friendly dogs.
Dog fees are $25.00 per dog per night and due before arrival. If guests arrive with unregistered dogs, fee is $50.00 per dog per night.
Doggie Rules:
Do not leave dogs unattended. It is stressful for them and they tend to get into trouble. Take them with you or crate them.
Constantly barking dogs will be asked to leave.
You are responsible to sweep and clean up hair and any other messes before checking out. Please keep dogs off furniture!